WEST KENT SUNDAY FOOTBALL LEAGUE

Saturday 22nd November 2014


REFEREE DAVE HOGAN - NEW PHONE NUMBER
Details here.

NEWS REPORT NOW AVAILABLE

A short report only this week as so many games were called off - click
here
to read.
RESULTS SUNDAY 16th NOVEMBER - CHANGES TO FIXTURES NEXT SUNDAY
Half of the scheduled matches were postponed because of rain. Results here, for updated League tables etc please start here. The top goalscorers page has been updated - the only changes are in Division Five, where Chris Martin of East Grinstead Mavericks scored all four in their win at Green St Blues Reserves and now stands as the overall top goalscorer in WKSFL League and Cup matches with eighteen.

NOVEMBER 23rd

Update : The Hadlow Hornets v Blackham & Ashurst Intermediate Cup Round 1 match will also be played next Sunday.

Postponed Kent County Cup ties will be played next Sunday. This has required some changes to WKSFL League and League Cup fixtures. For updated fixtures please click here. Clubs have been informed directly.

ALBERT SEYMOUR
Those of you with a long association with the League will be sorry to hear that Albert Seymour passed away recently. He was a long time with Rawson's Trucks FC and also served as a referee after his playing days before moving to Spain in retirement.

PAUL BEADLE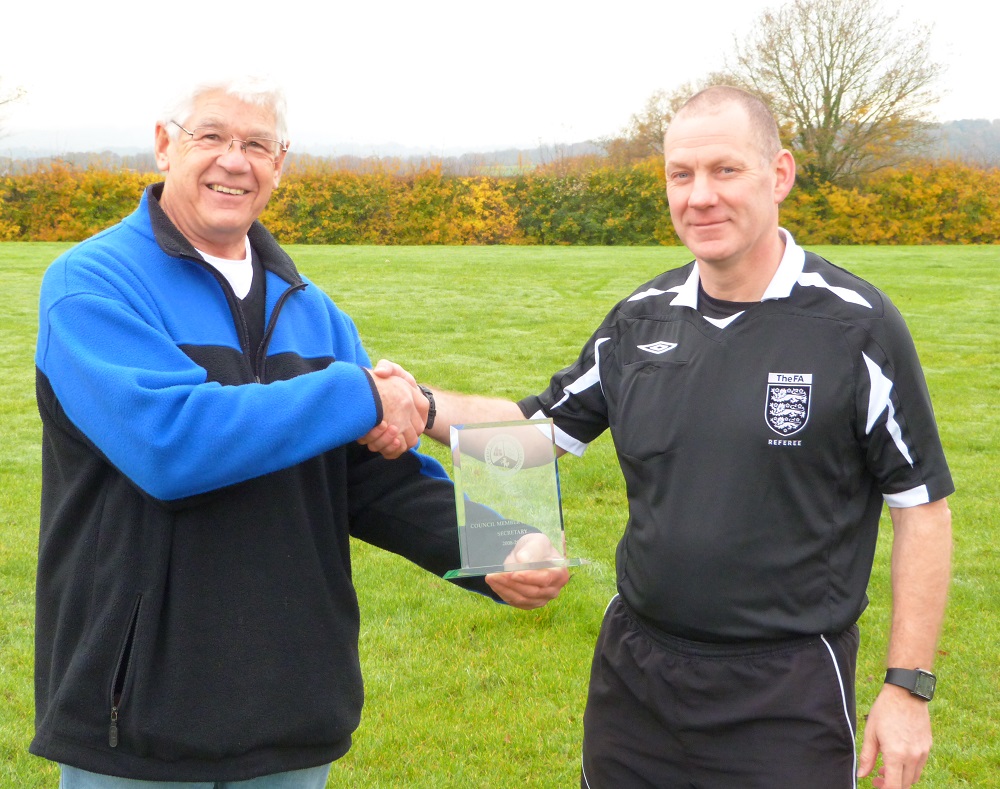 Tony Vanns Registration Secretary of the League makes a special presentation to Referee Paul Beadle in recognition of his service to the league as Council Member and Referees Secretary 2008-2014. We wish Paul well and hope he will continue to referee in the League.
Click the picture to see it in a larger size.

REMINDER DECEMBER FIXTURES

December 21st - there will be NO WKSFL fixtures scheduled.

MATCH POSTPONED - PROCEDURE
Now that it has started to rain, many matches will now be called off over the coming months. Here is a reminder to all clubs on the procedure that MUST be followed when your local council declares the pitch unusable. Failure to observe these procedures will result in your club being fined and possibly having to meet costs for wasted journeys.

EMERGENCY REGISTRATIONS
Still more instances are cropping up of players being signed on using emergency forms without anyone checking whether he is already registered for another club. Don't take their word for it! Also, it is irrelevant that he may never have played for another club.
So if you are asking someone to come down on a Sunday morning and sign on, CHECK
THE REGISTERED PLAYERS LIST
which is normally updated every Saturday morning. This will take but a minute. Bookmark the file on your smartphones or tablets.
If he is already listed, he CANNOT register for another club until the existing registration is cancelled by that club or a transfer form is properly completed. All this must be done before pen is put to paper.
This is costing clubs fines and points. Players may also be fined and / or suspended if they knowingly sign for a club when already registered for another.
And to repeat part of the previous message :
Emergency Registrations are not just for the one game. Any player so registered is considered as a registered player for that club until the registration is either cancelled or he officially transfers to another club.
CHANGE TO TRANSFER PROCEDURE
A new registration form is no longer required when a player transfers between clubs. The transfer form has been changed to reflect the current requirement. However, all concerned please make sure that the transfer form is correctly and fully completed.

CLUBS SEEKING PLAYERS
If you are a player looking for a regular game or are new to the area and want to play on a Sunday morning, several clubs across the divisions are needing players. Please go to the club adverts page for details.

DO YOU HAVE OLD KITS CLUTTERING UP THE PLACE?
This from Jon Hurst at Kent College in Tonbridge -

...writing on behalf of a work colleague who supports younger people in Malawi through charity work: www.malawiyouthdream.org, for the donation of old kits that are no longer required by clubs.'
Clubs interested in doing this can go direct to the website above (hit 'contact us'), or contact Karen Kamundi on 01622 200258 for more details.

Another option The Lighthouse Project, based at Longmead Primary School in Tonbridge, is involved with a scheme to donate football equipment to kids in the Phillipines. Take a look at this YouTube video clip - http://youtu.be/e81AnjPWcVE

If you can offer anything or a small donation, get in touch with Simeone Honore by email.

SECOND EDITION OF THE WEST KENT SUNDAY LEAGUE HISTORY IN PLANNING.
Andrew Newman is thinking in advance of a new edition of the WKSFL history, which was a sellout when it was published in 2007. This might be a 60th Anniversary edition, in 2027!!
Andrew is wishing to get hold of copies of photos from 2007 - 2008 onwards and into future seasons, particularly of winning teams with their trophies. Any other photos of interest would be welcomed. Send them by email if you can to courierfootball@btinternet.com or contact Andrew at that address if there are pictures you can't send that way. Andrew may also be interested in videos, but please speak with him first. By the time it comes to season 2026/2027 no doubt 3D holograms will be sought after!

OLD TEAM PICTURES

Team pictures from bygone days can be seen
here.
Do you have an old team picture you can scan or copy? Email me
here
MAILING LIST
For the benefit of new secretaries and new people generally, I keep a mailing list through which all subscribers are notified of website updates. All contact email addresses supplied to the league are included automatically. If you wish your email address to be added, please
email me.
All messages from me will have WKSL WEBSITE UPDATE in the title. I recommend that you include this information in your 'whitelist' or whatever, as some spam filters have a habit of dumping my well-intentioned emails in the dustbin.
Dedicated to the memory of the following, whose service to the League was invaluable and greatly appreciated




Cecil King


League Council Member and Benevolent Fund Secretary 1969 – 1979



Alan Rofe


League Council Member and Registration Secretary 1985 – 1999



Jim Smith


League Council Member and Treasurer 1973 - 1985 & 1994 - 2001
Vice President 1985 – 2001



Tony Norman


Minutes Secretary, Registrations Secretary, Referees Secretary,
Benevolent Fund Secretary 1975 – 1985



Harry Friend


Registration Secretary, Referees Secretary 1968-1979 & 1979-1987
Minutes Secretary, League Council Member, Vice Chairman 1984-87, Vice President 1987-2011