West Kent Sunday League News Report – Sunday 12th May 2019

Some details are missing from the information I have been sent. If it's received, I will update this report probably late Tuesday afternoon

Surrey Sunday Lower Junior Cup
Congratulations to Dormansland Rockets for their splendid 5-1 win on Friday night. Success for the League in a County Cup.

Dormansland Rockets met Atletico Bublé from the Southern Sunday League on Friday night at the Meadowbank Stadium, Dorking in the Surrey Sunday Lower Junior cup final. Both sides had each already lost a final this season, so were happy to be given the opportunity to make amends in the county cup final. Dormansland were largely unchanged from the side who had lost to Insulators in the WKSFL Intermediate cup final a couple of weeks prior, but did have the luxury of TJ Stead making a return from injury.

Unusually for them, Dormansland made the faster start, creating lots of early chances and forcing the Bublé keeper into a number of saves. Slow out of the blocks, the Bublé cause was not helped when they lost centre half Joe Powell to concussion within the first ten minutes. Fortunately a precautionary trip to A&E confirmed no lasting damage had been done. Dormansland continued to have the majority of the chances, but Bublé looked dangerous on the break with winger Marcus Beckford causing Stephen Hodge a number of early problems.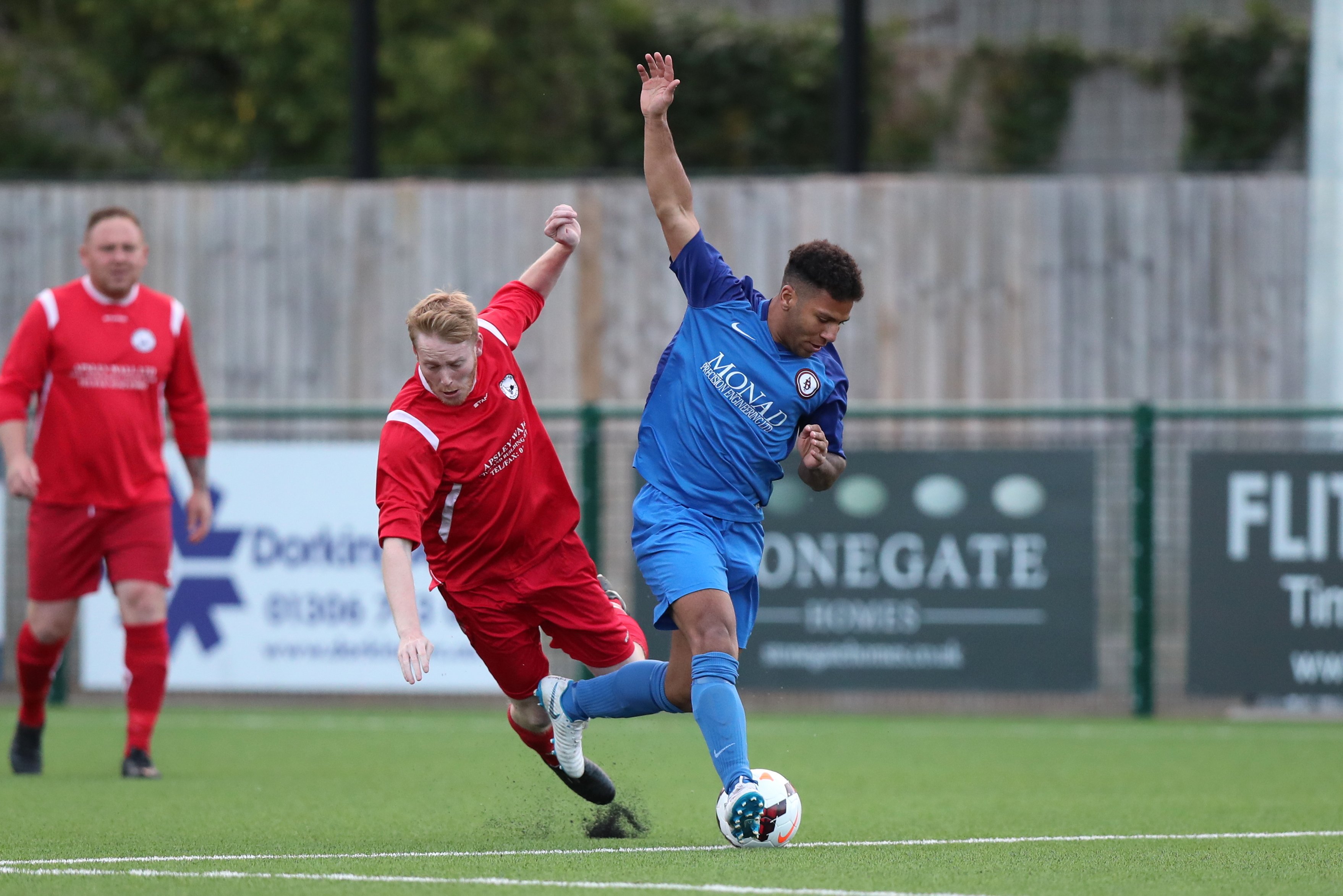 The pitch at Meadowbank is superb, which led to some really entertaining, quality football being played by the Rockets. Eventually this paid off when half an hour in the Bublé keeper spilled a Dave Gellatly cross into the path of Miguel Figueira-Dunne, who cooly slotted home to give the Rockets a deserved lead. Minutes later the lead was doubled, TJ Stead scoring the goal of the game. Miguel Figueira-Dunne's cross picked him out at the far post from where he lashed an unstoppable first time volley back across the goal into the top corner of the net to make it 2-0. On the stroke of half time, Dormansland were given a reminder that they couldn't afford to let their standards drop. Some uncharacteristically sloppy play in midfield by Ali Jones left Bublé through one on one, fortunately for Dormansland the Bublé striker's shot cannoned off the crossbar and away to safety. Rockets went in at half time with a 2-0 lead.

The second half started as an end to end affair, with Dormansland looking to make the game safe and Bublé looking for a way back in. The next goal would go the way of the Rockets, Rich Wetton getting to a through ball ahead of the Bublé keeper who cleaned him out giving the referee no choice but to award Dormansland a penalty. Ross Waghorn calmly stepped up and fired the ball into the bottom left corner, the keeper dived the right way but couldn't get enough on it to keep it out.

The game looked over at this point but Bublé continued to work hard and were rewarded for their efforts after the Rockets fell asleep from a free kick. The long ball into the box was flicked down to Laurence Ansell who fired the ball through Louis Stone's legs to make it 3-1. This goal galvanised Bublé and over the next ten minutes they threatened to pull another back, the momentum firmly with them and Louis Stone having to make a number of good saves to maintain Dormansland's two goal advantage. Bublé's need to push men forward left them short at the back and when the Rockets broke they looked dangerous. A swift counter attack ended with Rich Wetton firing towards the Bublé goal, his shot was blocked by a sliding defenders arm and another penalty was awarded to Dormansland. Again Ross Waghorn stepped up and again he scored, this time firing down the middle and watching the 'keeper dive away from the ball, 4-1 to Dormansland with 20 minutes left.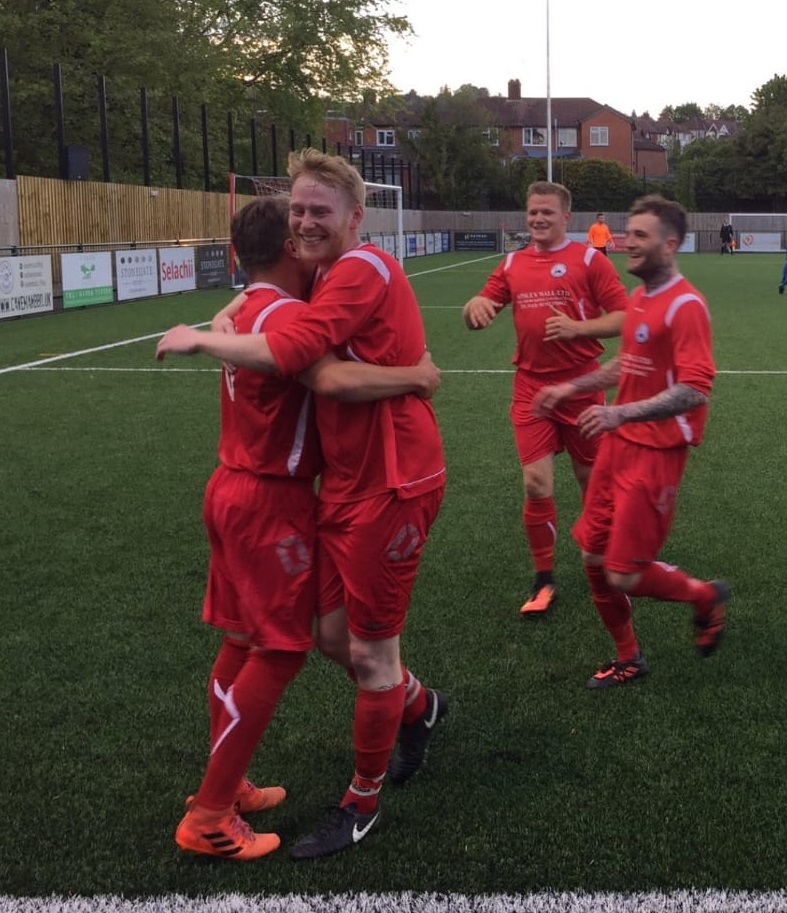 This fourth goal killed Bublé's momentum and minutes later it was 5-1, top scorer Rich Wetton finally getting in on the act after missing a number of chances earlier in the game. He raced onto a perfectly weighted Ali Jones through ball, rounded the keeper and rolled the ball into the empty net. Rockets made five changes in quick succession to freshen things up and continued to dominate the game. Substitute Callum Funnell made an excellent run in behind, only to be denied whilst lining up the shot by a last ditch tackle from the recovering Bublé defender who did brilliantly to get back. Fellow substitute Nick Elwood then saw a goal chalked out for offside, a shame as the finish was superb. A few more chances came and went for Dormansland, before the referee blew the full time whistle. The final score Dormansland Rockets 5-1 Atletico Bublé. Miguel Figueira-Dunne; who isn't far off 40, deservedly picked up the man of the match award following a tireless display on the wing before captain Dave Heaton went and lifted the cup to cheers from all of those who had come to support. Click the picure below to see it full size.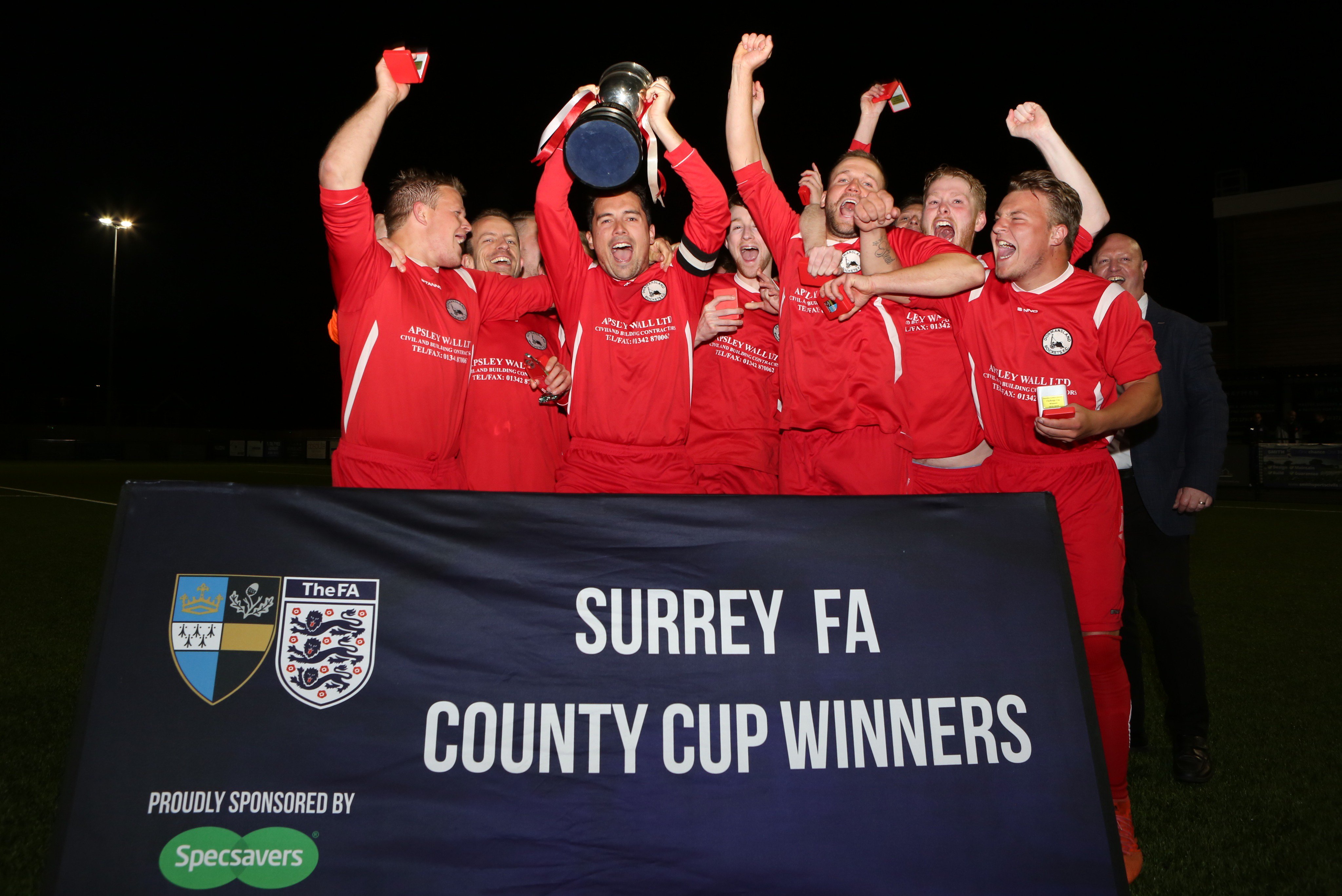 WKSFL Junior Cup Final
Goudhurst United 5 - 1 Yalding & Laddingford


It was perfect weather at the venue on Sunday morning (for a change) at the recently renovated Jockey Farm home of Rusthall FC. . Goudhurst started well, pressing Yalding from the whistle and after fifteen minutes Goudhurst scored the first goal, a rather bundled effort finished off by Harvey Parks chesting it in.

Yalding responded well and after sustained pressure from them they equalised on 30 minutes. Then it was Goudhurst's turn to attack and after a few missed chances eventually Will Mantle scored making it 2 - 1 and then just before half time David Denton made it 3 1.

The main topic in the Goudhurst changing room during the break was the importance of scoring the next goal, which David Denton duly quickly supplied then after twenty minutes of the second half Will Mantle scored his second of the game making it 5 1. Goudhurst could then relax a bit. Manager Ben Sturmer started making changes, putting fresh legs into midfield to contain Yalding who kept a brisk pace and still had a few chances to score. The last fifteen minutes was mostly Goudhurst´s game, with all subs on. The passing game made it very hard work for Yalding and when their 'keeper went off injured they did well to keep the score as it was, with a couple of mazy runs from Goudhurst centre back James Found not coming to fruition. Final score 5 - 1. With Goudhurst social club under renovation, the squad celebrated their win in the local Rose and Crown pub and were made very welcome by new manager Grant and a very proud chairman Martin Ridgley. It's been a long wait, he said.

I am also told memories were a little hazy this morning!

Goudhurst United have only twice before had their name on a WKSFL CUP.First time was way back in 1984-5 when they won the Intermediate Cup (beating Artois Utd Reserves) and then in 1985-6 when their reserves won the Junior Trophy. They then was a long gap to even be in a final until 2012 - 2013, when they were losing finalists in the Intermediate Cup

WKSFL Senior Cup

The replayed semi-final second leg was a long drawn out affair. Artois United were ahead 1-0 after 90 minutes, thus the game went to extra time which finished 2-2. Eventually the Old Boys won 3-0 on penalties. At the time of writing I do not have any other details.

Petts Wood Old Boys will meet Simla in next Sunadys final, which will at the Rusthall FC Jockey Farm Ground, ko 11.00am.

Division One
The Division One programme ended with Armada comprehensively beating Pembury Sunday 7-1, the goalscorers being Harry Tampsett (3), Ethan McCreight, Josh Matthews, Jack Davies and Dean Stockdale. Seventeen different players have scored for Armada this season and they have also been the beneficiary of four own goals. Despite Harry Tampsett's good scoring record, this was his first hat-trick of the season.

(For those of you who revel in such things, 56 different players have scored hat-tricks in WKSFL Cup and League matches this season.)


Pos
Team
P
W
D
L
F
A
GD
Pts
1
Artois United
12
11
0
1
46
21
25
33
2
Green Lane
12
10
0
2
37
22
15
30
3
Simla
12
9
0
3
52
10
42
27
4
Armada
12
6
0
6
38
34
4
18
5
Pembury Sunday
12
4
0
8
32
41
-9
12
6
Green Street Blues
12
1
1
10
24
61
-37
4
7
Royal Oak
12
0
1
11
14
54
-40
1
Division Two

No information received as of 945pm Monday night! I will be unable to update this report until Tuesday late afternoon.